The Arya bag is inspired by Podrick's leather armour in A Games of Thrones and named after the fearless Arya in the series. This little clutch bag maybe small but do not underestimate its power!
Le sac Arya fut inspiré par l'armure de cuir de Podrick dans 'Games of Thrones' et a été nommé d'après Arya l'intrépide. Une pochette plutôt petite, comme l'héroïne de la série, mais n'en sous-estimez pas pour autant son pouvoir!
Arya is geïnspireerd op Podrick's lederen harnas in A Games of Thrones en genoemd naar de onverschrokken Arya in de serie. Deze kleine clutch is misschien klein, maar onderschat zijn kracht niet.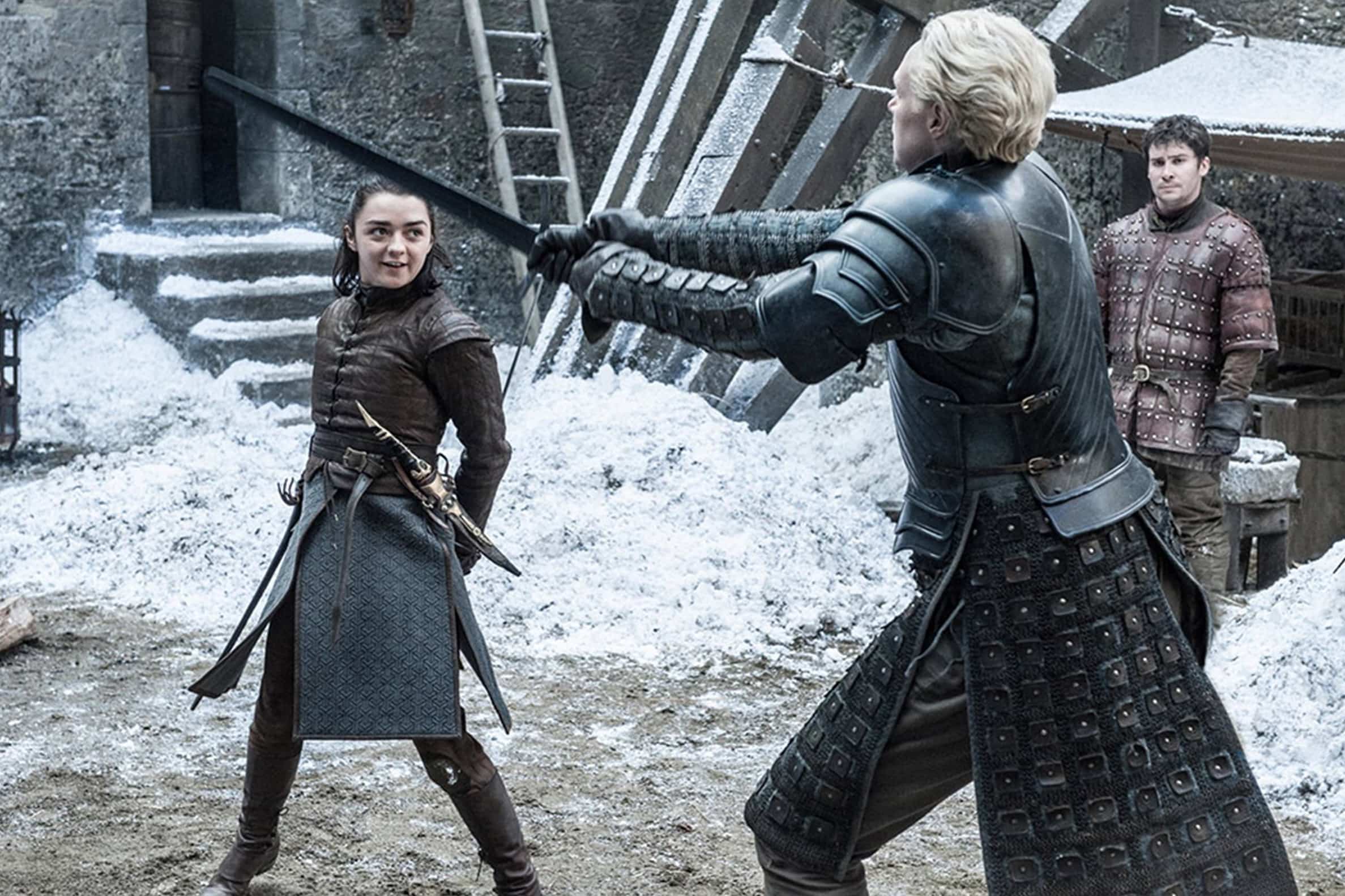 Arya's my favourite character in A Game of Thrones'. She doesn't allow herself any self-doubt, you just know she's going to get exactly where she wants to be. She's a strong woman, I think we could all aspire to be a little bit more like her,' adds Emmanuelle.
'Arya est mon personnage favori dans la série Games of Thrones.' Il n'y a aucune place pour le doute dans ses actions et ses choix et il est évident qu'elle atteindra ses objectifs. C'est une femme forte, nous gagnerions toutes à être un peu plus comme elle' ajoute Emmanuelle.
'Arya is mijn favoriete personage in A Game of Thrones. Ze staat zichzelf niet toe te twijfelen, je weet gewoon dat ze precies krijgt wat ze wil. Ze is een sterke vrouw en ik denk dat we er allemaal kunnen naar streven een beetje meer op haar te lijken,' voegt Emmanuelle eraan toe.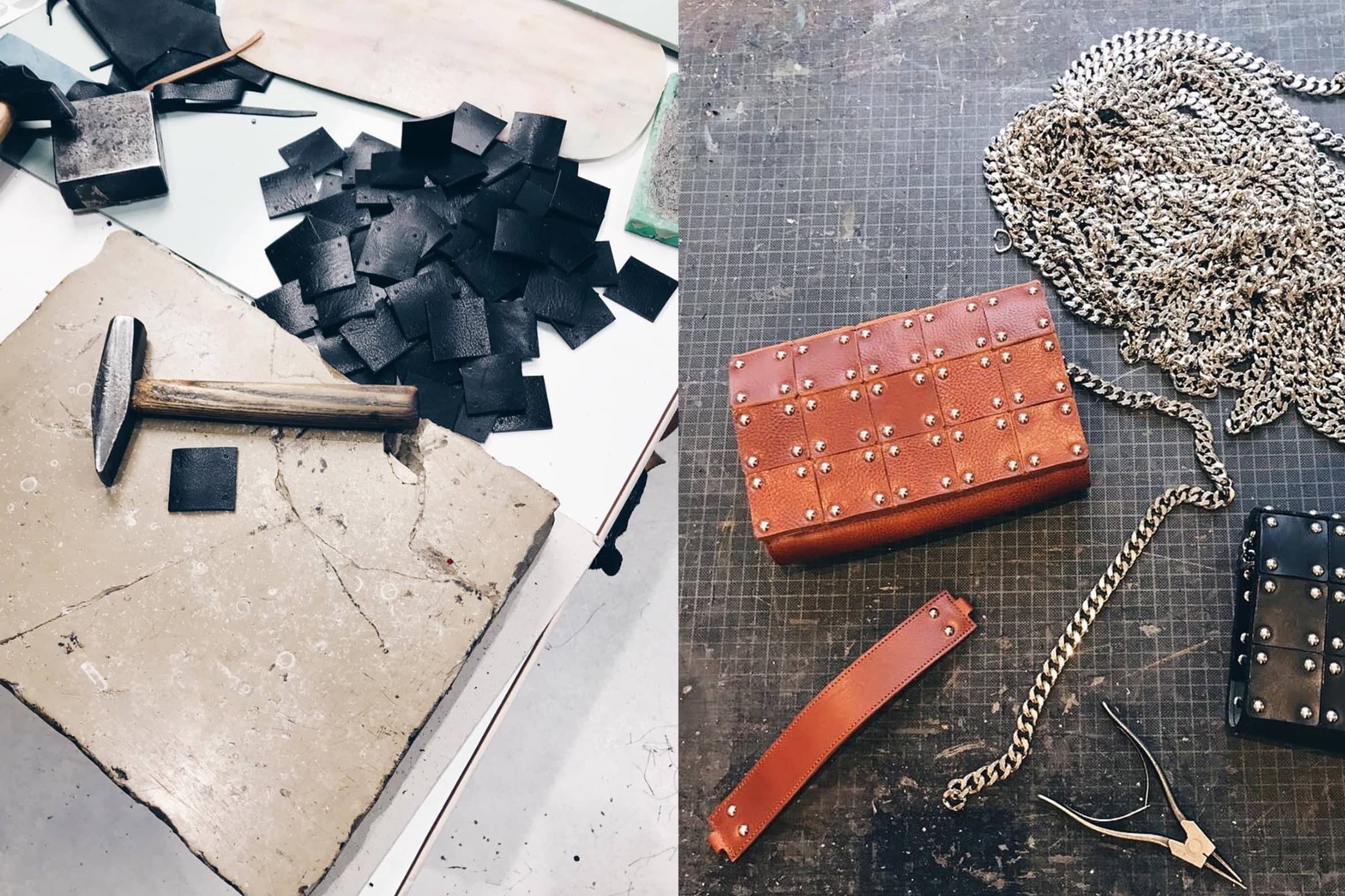 Initially Emmanuelle was only going to make on Ayra  for herself but she had so many compliments on the design, that she decided to add it to the LILU collection.
The design is simple, but labour intensive. It's made from a natural, vegetable tanned 'fait du collet' leather from France, that's known for its hard-wearing qualities. The bag takes about 2 days to make. Every square, hole and rivet has to be cut and prepared by hand.  There are a total of 63 individual leather squares, 252 metal rivets on every Arya bag.
A l'origine, Emmanuelle comptait réaliser l'Arya uniquement pour elle mais le sac a beaucoup plu, à tel point qu'elle décida de l'ajouter à la collection LILU.
Le design est simple, mais nécessite un important travail de façonnage. Le sac est réalisé dans un collet tanné naturellement en France, connu pour sa résistance et sa robustesse. Il faut deux jours pour fabriquer une seule pochette ! Chaque carré, trou et rivet est coupé, placé et monté à la main, Et le grand modèle compte jusqu'à 63 carrés et 252 rivets.
Aanvankelijk zou Emmanuelle enkel een Arya voor zichzelf maken, maar ze kreeg zoveel leuke opmerkingen op het design, dat ze besloot om de tas toe te voegen aan de LILU-collectie.
Het ontwerp is eenvoudig, maar erg arbeidsintensief. Het is gemaakt van een natuurlijk, plantaardig gelooid 'fait du collet' leder uit Frankrijk, dat bekend staat om zijn slijtvaste eigenschappen. Het duurt ongeveer 2 dagen om de tas te maken. Elk vierkant, elk gaatje en elke klinknagel is met de hand gesneden en ingeslaan. Elke Arya-tas bestaat uit 63 afzonderlijke lederen vierkanten en 252 metalen klinknagels.
'Some designs just come out perfectly from the first prototype but others take a bit of time to develop, it's about instincts and a feeling,' adds Emmanuelle. Arya comes in two sizes and is available in black, natural brown and dark green leathers.
'Certains designs sortent tout juste du premier prototype mais d'autres prennent un peu de temps à développer, c'est une question d'instinct et de sentiment,' ajoute Emmanuelle. Le modèle Arya est disponible dans 2 tailles différentes et 3 coloris : noir, cognac et vert forêt.
'Sommige ontwerpen zijn vanaf het prototype perfect, anderen nemen wat meer tijd om tot het finale ontwerp te komen, het gaat om instincten en een gevoel,' voegt Emmanuelle eraan toe. Arya is verkrijgbaar in twee maten en drie kleuren leder  zwart, natuurlijk bruin en donkergroen.